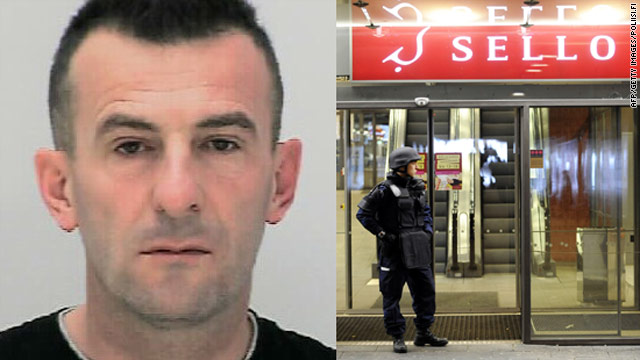 Ibrahim Shkupolli & entrance to Sello mall
The Sello mall shooting occurred on the morning of December 31, 2009 in Espoo, Finland. The shooting was believed to have been started after Ibrahim Shkupolli, the gunman, found that his ex-girlfriend had a lover at the grocery store where she worked. Shkupolli first killed her in her apartment before heading to the mall. The shooting began when the gunman entered the Prisma supermarket and began firing with a handgun.
Preliminary reports indicated four fatalities at the mall, three men and one woman. All were employees of Prisma. Another woman, identified as the suspect's ex-girlfriend, was found dead in an Espoo apartment in connection with the case. The ex-girlfriend was also an employee of Prisma, and the Finnish police speculated that she was the main target. It is alleged that Shkupolli killed his former girlfriend first in the apartment, and after moved on to kill her boyfriend (who was shot and killed) at the shopping mall where they both worked. The gunman was identified as 43 year old Ibrahim Shkupolli, and after the shooting was seen walking into another shop where he disappeared, sparking a major manhunt which involved police helicopters. Later that day, Shkupolli was found dead in an apartment in Kirstinmäki, Espoo, in an apparent suicide. His apartment was completely empty except for a mattress, framed photo of his ex-girlfriend and 14 fully loaded magazines for his gun and a bag containing additional 273 cartridges. 
Visit Michael Thomas Barry's official author website – www.michaelthomasbarry.com and order his true crime book, Murder and Mayhem 52 Crimes that Shocked Early California 1849-1949, from Amazon or Barnes and Noble through the following links: 
Amazon - http://www.amazon.com/Murder-Mayhem-Shocked-California-1849- 1949/dp/0764339680/ref=sr_1_1?ie=UTF8&qid=1352214939&sr=8-1&keywords=michael+thomas+bar 
Barnes and Noble - http://www.barnesandnoble.com/w/murder-and-mayhem-michael-thomas-barry/1110912205?ean=9780764339684
Total views: 6000