Accused killer Robert Durst unwittingly confessed to multiple murders while off camera in an adjacent bathroom, says HBO's documentary crew of The Jinx. 
If so, one of the world's wealthiest serial murderers to date inevitably slapped the cuffs on his own elegant wrists by boasting aloud about the crimes he's guilty of to the scary man in his mirror.
"There it is. You're caught," Durst was overheard muttering at his own reflection. "What the hell did I do? Killed them all, of course."
Just two short years after that odd admission was accidentally recorded at an HBO film studio, the 71-year-old Durst was finally apprehended in the lobby of a swank New Orleans hotel where he was allegedly living the highlife and in hiding.
Now, the illustrious inmate's accommodations are understandably a lot less posh, as Durst festers in a modest Louisiana jail cell whilst awaiting extradition to California where the warrant for his arrest originated.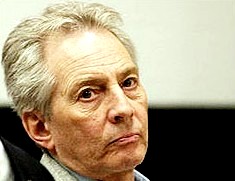 Once he does arrive in Los Angeles County, he'll then be charged with at least one count of first-degree murder, which, hopefully, will trigger a chain of events leading to charges in the other outstanding homicides he's additionally suspected of having committed.
It's all a dramatic conclusion of sorts for an outwardly crazed criminal who's skillfully eluded justice for almost three decades -- in part because of his tycoon-family ties, and his own unlimited financial assets.
The quasi-royal Durst clan, however, vehemently insists it has long ago disowned their criminally insane relative and provided him with no special aid or shelter.
In fact, brother Douglas, who heads the family's multibillion-dollar real estate company, Durst Organization, went so far as to express "relief" at the recent arrest of his outcast sibling.
"We hope he will finally be held accountable for all he has done," Douglas Durst said this week, in a carefully worded but brief statement he gave to the press.
The current murder charge that his black-sheep brother Robert is facing today stems from the 2001 slaying of his missing first-wife's friend, Susan Berman.
Investigators strongly suspect that Robert Durst personally killed the woman because he knew she had important knowledge concerning his spouse's mysterious and unsolved disappearance almost a decade earlier.
And, according to the maniacal musings of the madman in Durst's full-length looking glass, that hunch is probably right.
EPONYMOUS ROX
Total views: 1996