Nov. 4, 2012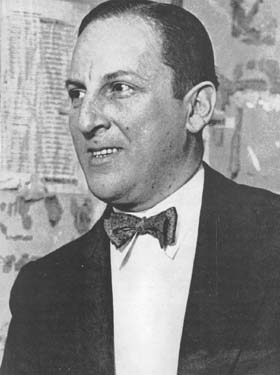 Arnold Rothstein
On this date in 1928, notorious gambler Arnold Rothstein is shot and killed during a poker game at the Park Central Hotel in Manhattan. After finding Rothstein bleeding profusely at the service entrance of the hotel, police followed his trail of blood back to a suite where a group of men were playing cards. Reportedly, Rothstein had nothing good in his final hand. From an early age, Rothstein had a talent for playing numbers. As a teenager, he built a small fortune gambling in craps and poker games, and by age 20 he owned and operated his own casino. Rothstein became a legendary figure in New York because of his unparalleled winning streak in bets and card games. However, it is believed that he usually won by fixing the events. The most famous instance of this was in 1919 when the World Series was fixed. Abe Attell, a friend and employee of Rothstein, paid some of the key players on the Chicago White Sox to throw the games. When the scandal was uncovered, Rothstein fiercely denied any involvement to a grand jury and escaped indictment. In private, however, Rothstein never denied his role, preferring to enjoy the outlaw image. In the 1920's, Rothstein began purchasing nightclubs, racehorses, and brothels. He had such a formidable presence in the criminal underworld that he was reportedly once paid half a million dollars to mediate a gang war. As Rothstein's fortune grew to an estimated $50 million, he became a high-level loan shark, liberally padding the pockets of police and judges to evade the law. He is fabled to have carried around $200,000 in pocket money at all times. Rothstein's luck finally ran out in 1928 when he encountered an unprecedented losing streak. At a poker game in September, Rothstein lost $320,000 and then refused to pay on the grounds that the game had been rigged. Two months later, he was invited to play what would be his final poker game. Asked who had shot him before dying, Rothstein reportedly put his finger to his lips, keeping the gangsters' code of silence. 
Award winning author Michael Thomas Barry is a graduate of the California State University, Fullerton with degrees in Criminal Justice and History. His works include Final Resting Places Orange County's Dead & Famous (2010); Fade to Black Graveside Memories of Hollywood Greats 1927-1959 (2011); Murder & Mayhem 52 Crimes that Shocked Early California 1849-1949 (2012); Great Britain's Royal Tombs: A Guide to the Lives and Burial Places of British Monarchs (2012). He is a member of the Mystery Writers of America. Michael resides in Orange, California. Visit his official website for more information, www.michaelthomasbarry.com.
His true crime book Murder & Mayhem 52 Crimes that Shocked Early California 1849-1949 can be purchased from Amazon or Barnes & Noble. 
Total views: 9003