Beloved Adam-12 TV cop, Martin Milner, has died over the holiday weekend at the age of 83. 
The actor is best known for his starring role as LAPD beat patrolman Pete Malloy in one of the 1970s most popular television series.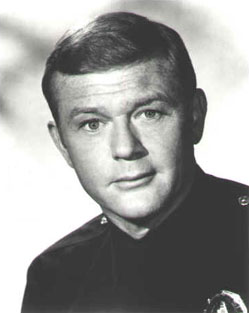 Milner as Officer Malloy is credited with inspiring a generation of young men and women to pursue careers in law enforcement and criminal justice. Not the least of which was the current chief of police for the Los Angeles Police Department, Charlie Beck:
"His depiction of a professional and tough yet compassionate cop led to thousands of men and women applying to become LAPD officers, including me," Beck said in a statement issued this weekend. "Godspeed, Martin. You will live forever in our hearts."
Serial screenwriter Jack Webb's inspiring police drama Adam-12 cast the shrewd-looking Milner as an incorruptible officer, in a time when respect for the profession was rapidly eroding due to clashes with war protestors and equal rights activists, as well as corruption scandals.
The series debuted in 1968 and aired on NBC until 1975.
American actor Martin Milner died at his California home on September 6, 2015 from cardiac failure. The 83-year-old TV icon leaves behind a wife of 58 years and three adult children.
#RIP, Pete Malloy.
Total views: 1135