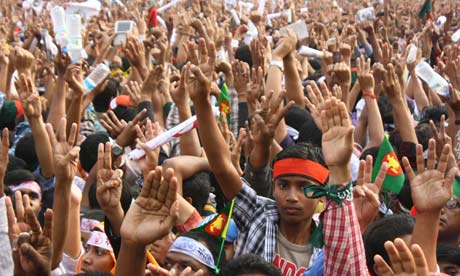 Feb. 14, 2013 The Guardian
Object of public wrath is Islamist politician found guilty of war crimes during Bangladesh's war of independence in 1971
Festering resentment among a youthful population super-charged by social media is by now a familiar ingredient to mass protest movements around the world.
But the latest example of the phenomenon in the Shahbag area of the capital of Dhaka that has been dubbed Bangladesh's "Tahrir Square" is not attempting to topple a military dictatorship.
A crowd estimated to be hundreds of thousands strong has been camped on the streets for 10 days demanding the execution of war criminals.
The movement has created such strong feelings that some expatriate Bangladeshis have flown home to support the call for the death penalty. Children have been filmed with the slogan "We want death by hanging" painted across their cheeks and torsos.
The object of the public wrath is Abdul Quader Mollah, an Islamist politician found guilty this month of crimes including massacres, torture and rapes during Bangladesh's bloody war of independence from Pakistan in 1971.
Another eight members of Mollah's Jamaat-e-Islami party are also on trial, as are two members of the opposition Bangladesh Nationalist Party, including a former government minister.
The men had attempted to resist efforts by what was then called "East Pakistan" to break away from the rest of Pakistan, triggering an immensely violent conflict. It is estimated that anywhere between 300,000 and 3 million people were killed by the Pakistani Army and their allied local militias.
Total views: 2984