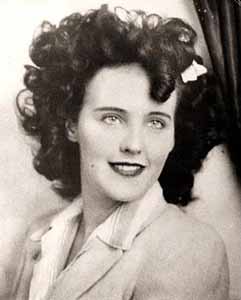 Elizabeth Short aka the Black Dahlia
On the morning of January 15, 1947 Betty Bersinger and her three year old daughter were out for an early morning stroll when they came across the bisected torso of a naked woman in a vacant lot in Leimert Park, Los Angeles. When police examined the remains of the woman they noted that the face had been slashed and the mouth cut on each side, so that it resembled a grin.
The breasts, thighs and arms had all been cut and rope burns were apparent on the wrists and ankles. The lower half of the body was in a recumbent position. The body had been drained of blood, washed and then apparently dumped where it had been found. It is unlikely that anyone would now know the name of Elizabeth Short, if not for the appalling circumstances of her death. She was born in poverty in Hyde Park, Massachusetts in 1924. She moved to California at age 19 with dreams of becoming a movie star but these ideas never materialized. Short acquired the moniker "The Black Dahlia" posthumously by newspapers, which were in the habit of nicknaming crimes they found particularly colorful. 
On January 23, 1947, someone claiming to be the killer called the editor of the Los Angeles Examiner, expressing concern that news of the murder was tailing off in the newspapers and offering to mail items belonging to Short to the editor. The following day, a packet arrived at the Los Angeles newspaper containing Short's birth certificate, business cards, photographs, names written on pieces of paper, and an address book with the name Mark Hansen embossed on the cover. Hansen, an acquaintance at whose home she had stayed with friends, became a suspect. One or more persons would later write more letters to the newspaper, calling himself "the Black Dahlia Avenger," after the name given to Short by the newspapers. Due to the notoriety of the case, more than 50 men and women have confessed to the murder, and police are swamped with tips every time a newspaper mentions the case or a book or movie about it is released. The case still remains open and unsolved. 
Visit Michael Thomas Barry's official author website – www.michaelthomasbarry.com and order his true crime book, Murder and Mayhem 52 Crimes that Shocked Early California 1849-1949, from Amazon or Barnes and Noble through the following links: 
Amazon - http://www.amazon.com/Murder-Mayhem-Shocked-California-1849- 1949/dp/0764339680/ref=sr_1_1?ie=UTF8&qid=1352214939&sr=8-1&keywords=michael+thomas+bar 
Barnes and Noble - http://www.barnesandnoble.com/w/murder-and-mayhem-michael-thomas-barry/1110912205?ean=9780764339684
Total views: 5663