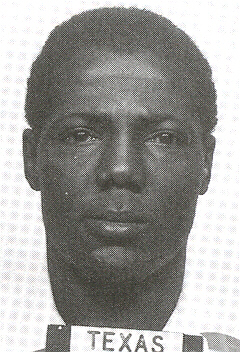 Charles Brooks Jr.
On December 7, 1982, the first execution by lethal injection takes place at the state penitentiary in Huntsville, Texas. On December 14, 1976, Charles Brooks Jr., went to a used car lot and asked to test drive a car. The mechanic, David Gregory, accompanied him in the car. After Brooks picked up his accomplice Woody Loudres, they put the mechanic in the trunk of the car and Brooks and Loudres drove to a motel. There the mechanic was bound to a chair with coat hangers, gagged with tape and then shot once in the head.
Neither Brooks nor Loudres would say who fired the shot. In exchange for his testimony at trial, Loudres received a 40 year sentence; Brooks was convicted and sentenced to death. Upon appeal the Supreme Court of the United States rejected by 6-3 a petition to grant Brooks a stay of execution. 
Brooks was rolled into the death chamber at the Huntsville State Penitentiary in Huntsville, Texas on the early morning hours of December 7, 1982. There he made his final statement. Brooks had converted to Islam while in prison and as such said a prayer to Allah. He was executed by an intravenous injection of sodium pentothal, the barbiturate that is known as a "truth serum" when administered in lesser doses. Texas, the national leader in executions, adopted the lethal injection procedure as a more humane method of carrying out its death sentences, as opposed to the standard techniques of death by gas, electrocution, or hanging. Charles Brook Jr., was the first person ever to receive lethal injection and was executed despite serious doubts about his personal involvement in the murder of David Gregory. Even the prosecutor pleaded that his death sentence be commuted, because no one knew whether he or his co-defendant actually committed the murder. 
During the next decade, 32 states, the federal government, and the U.S. military all took up the lethal injection method. After several years of practical development, execution authorities adopted a lethal injection procedure in which three separate drugs are injected successively into the convict's bloodstream. The first drug, sodium thiopental, a barbiturate, renders the prisoner unconscious, the next, pancuronium bromide, a muscle relaxant, paralyses the diaphragm and lungs, and the third, potassium chloride, causes cardiac arrest and ensures the prisoner's death. 
Visit Michael Thomas Barry's official author website – www.michaelthomasbarry.com & order his true crime book, Murder & Mayhem 52 Crimes that Shocked Early California 1849-1949, from Amazon or Barnes & Noble through the following links – 
Amazon - http://www.amazon.com/Murder-Mayhem-Shocked-California-1849- 1949/dp/0764339680/ref=sr_1_1?ie=UTF8&qid=1352214939&sr=8-1&keywords=michael+thomas+bar 
Barnes & Noble - http://www.barnesandnoble.com/w/murder-and-mayhem-michael-thomas-barry/1110912205?ean=9780764339684
Total views: 7787