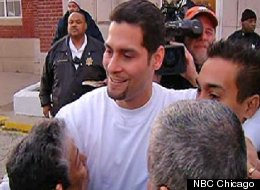 Huffington Post
Juan Rivera Jr., who was exonerated in January of three murder convictions, is suing law enforcement officials in Lake County alleging they framed Rivera for the rape and murder of 11-year-old Holly Staker in 1992.
In the lawsuit filed Tuesday, Rivera's lawyers allege he was coerced into giving a false confession after four days of "intensive and abusive interrogation." The lawsuit further claims Rivera suffered a mental breakdown on the third night of the interrogation:
"As he was experiencing this mental collapse, the Defendants "hog tied" [Rivera] and placed him in a padded room. Medical personnel who observed Plaintiff soon thereafter diagnosed him with acute psychosis and observed that he had torn out pieces of his scalp."
Rivera's attorneys called their client's questioning by Lake County police one of the most "monumentally, psychologically abusive interrogations" in Illinois' history," according to the Chicago Sun-Times.
Total views: 5178