Suspected serial killer Robert Durst is now being investigated in the cold case disappearance of a Vermont teenager who's been gone without a trace for over forty years. 
Durst is already behind bars on a California murder charge in the 2000 shooting death of a close friend of his first wife, and is also facing firearms violations and drug possession in Louisiana.
The elusive land tycoon attracted national attention in 2003 after his acquittal in the murder and dismemberment of a next-door neighbor, but well before then he was eyed by authorities for the troubling disappearance in 1982 of Kathleen Durst.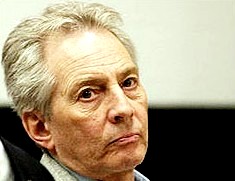 Officials in Vermont also believe he was the last person to see 18-year-old college student Lynne Schulze alive in the winter of 1971.
According to eyewitnesses, on December 10, 1971 Schulze purchased produce from a health food store in Middlebury which was owned and operated by the accused mega-millionaire murderer.
After that, she was never seen or heard from again.
Durst, "is a person that's very interesting to us," the city's chief of police Tom Hanley announced yesterday. And since their number one POI is permanently in custody, investigators are eager to interview him about the unsolved case.
The investigation into the circumstance of Lynne Schulze's vanishing was reopened in 1992, but amped up in 2012 when someone anonymously phoned in a tip to police that Durst had briefly been a Middlebury, VT business owner.
The search of his former downtown property, however, yielded nothing of substance.
But, "whether it's with Robert Durst or a different lead, I would love to bring some resolution to the family," said the Middlebury detective who, all these years, has been pursuing closure for the loved ones of Lynne Schulze.
Likely, he's closer than ever to finally achieving that goal, if the notorious Durst was even peripherally involved with the missing young woman.
Total views: 1742