Shown below, K9 'Diesel' heroically died in a predawn gun battle with a French terror cell today, when two of the suspects killed themselves by detonating a suicide vest and a hand grenade.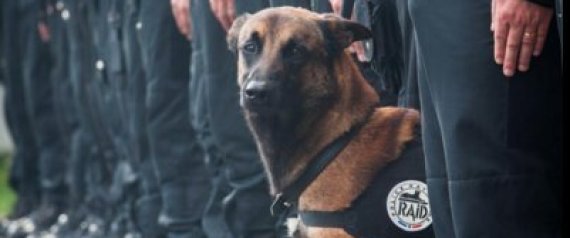 Five of the officers and soldiers who the 7-year-old Malinois police dog was assisting in a special op staged outside a St. Denis apartment complex were also injured, albeit non-fatally.
French officials confirm that a handful of other Arab terrorists holed up at that location were taken into custody early this morning, but the area is still being swept for explosives at this hour.
The St. Denis suburb is not far from the sports stadium where suicide bombers blew themselves up last Friday night during a series of assaults on crowded public venues in the heart of France's capitol which left hundreds of unarmed citizens maimed or dead.
It is home to a large community of Moslem immigrants -- including, evidently, wanted terror mastermind, Salah Abdeslam, whom one resident recognized in the neighborhood yesterday, despite reports that he'd fled to Syria.
A police spokesman explained, however, that it was Abdeslam's co-planner, Abdelhamid Abaaoud, who was the actual target of this morning's raid near Paris.
The Belgian national is the second Daesh suspect now being sought for the deadly attacks of November 13th, but it isn't immediately clear if he was one of the men apprehended today.
@EponymousRox
K9, #JeSuisChien, LODD
Total views: 1791